view our repertoire
Probably the Best Genesis Tribute Band in the UK
Los Endos capture the excitement of a live Genesis gig from the Seventies, with a 2½ hour show of scintillating musicianship and a state of the art light show. Featuring music from their early heyday when Peter Gabriel sang and Steve Hackett played guitar to when Phil Collins took centre stage, Los Endos have focussed on music from all the hit albums of the 70's plus a few surprises.
As avid fans of the music the band and technical crew have spent many hours creating a show that is second to none in bringing to life some of the greatest music of the era – 'Probably the best Genesis Tribute Band in the UK'.
So please explore the site, check out the gigs and keep prog rock music live.
<! --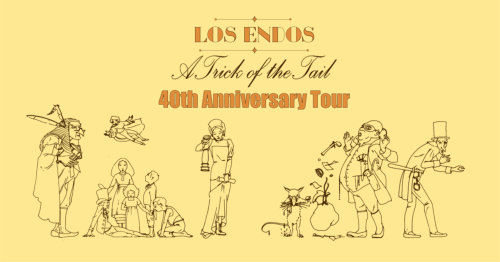 Blimey. It's the Autumn - so we're on the final leg of our 40th Anniversary tribute to Trick. We were happy to re-visit Burgess Hill in September and now have a flurry of gigs all over the country. Check out our gigs page. We're booking venues for 2017 to play a 40th Anniversary tribute to 'Seconds Out - Round II' plus lots more!
Meantime, we will continue to celebrate the 40th Anniversary of that seminal album 'A Trick of the Tail' by re-creating musically the set list that the band toured with in 1976.
Phil Collins nervously stepped into the light as the band's singer following the astonishing departure of Peter Gabriel (remember how that felt when you bought Melody Maker that week?!) and Bill Bruford occupied the drum stool, albeit for a brief time. How would the fans react to the new music and a new front man?
Of course we know now that the album is an absolute classic and many fans firm favourite! So we'll be playing the whole show plus some extras (because we do this for love, and we love to play this stuff!) Looking forward to seeing you at one of our shows!
Meantime, our new video recorded live at The Playhouse in Whitley Bay is in post production- we hope to have DVD's for sale at our shows and there will be lots of highlights on YouTube – please check it out on our video page when it's released (just follow this page...) Also there are lots of new clips of the band in action at our recent gigs. The band have never sounded or looked as good, we hope you'll agree!
The most up to date and dynamic to stay in touch is on Facebook - as Jack says at every gig 'We love the banter' - let's keep Prog Rock Live!
Dominic, our lighting engineer, gets a bit restless. Somehow, he got hold of the band wallet at the last gig and went mad with the plastic. We've always prided ourselves on having the best light show on the road - and now it's even better with a battery of new moving head LED lights. It will blow you away - so come and check it all out at an upcoming gig!