view our repertoire
Probably the Best Genesis Tribute Band in the UK
Los Endos capture the excitement of a live Genesis gig from the Seventies, with a 2½ hour show of scintillating musicianship and a state of the art light show. Featuring music from their early heyday when Peter Gabriel sang and Steve Hackett played guitar to when Phil Collins took centre stage, Los Endos have focussed on music from all the hit albums of the 70's plus a few surprises.
As avid fans of the music the band and technical crew have spent many hours creating a show that is second to none in bringing to life some of the greatest music of the era – 'Probably the best Genesis Tribute Band in the UK'.
So please explore the site, check out the gigs and keep prog rock music live.
<! --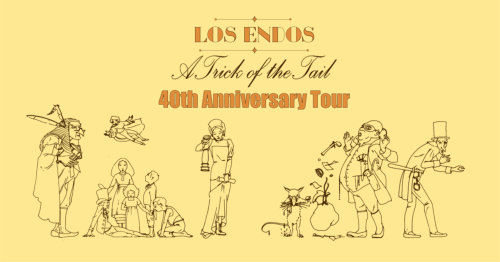 And we thought the audience in Bristol & Banbury were fantastic! Many thanks to all in Taunton and Wimborne - the band were inspired by the wave of joy coming from the audience. Supper's Ready was almost too emotional! Brilliant.
What an inspiration it was to celebrate a 40th Anniversary tribute to 'Seconds Out - Round II' plus lots more! Check out our gigs page and you'll notice that we have a couple of double headers lined up for you. It's always a major challenge deciding what to leave out of the set that we play for you. The band have, over the years, mastered much of Genesis' catalogue and we only have 2 hours or so to perform... So we will be playing two completely different sets over two nights in Guildford (hopefully) and Dartford in the Autumn. For the full on experience come both nights!
Phil Collins' biography and tour announcement have fired up a realisation that the magnificent music he produced with Genesis is timeless (and not embarassing or pretentious as critics have maintained until recently) and if you want to enjoy the exhilaration of this music live and up close you can't do better than Los Endos.
The shows in the first part of the year will centre around 'Seconds Out - Round II' - we'll be playing the whole double album plus some extras (because we do this for love, and we love to play this stuff!) before we build up to our 'residency' shows in the Autumn
The most up to date and dynamic way to stay in touch is on Facebook - as Jack says at every gig 'We love the banter' - let's keep Prog Rock Live!
Dominic, our lighting engineer, gets a bit restless. Somehow, he got hold of the band wallet at the last gig and went mad with the plastic. We've always prided ourselves on having the best light show on the road - and now it's even better with a battery of new moving head LED lights. In fact we are now completely LED on stage - the bulb has gone the way of the dinosaurs! It will blow you away - so come and check it all out at an upcoming gig!
Our new video recorded live at The Playhouse in Whitley Bay is now available and is selling well to great reviews. The band have never sounded or looked as good, we hope you'll agree! You can buy the DVD on line on our Merchandise page, at one of our shows or on Amazon
We are also producing a Live CD for sale in 2017 - it'll be a snip at £5!